Valve service and repair kits have to be change each 6000-8000 working hours (it depend on compressor model and brand and service period in the operational manual for the equipment). Different types of the valves (minimum pressure valve, return valve, unloading valve) there are a l lot of sealing elements (O-rings, sleeves, sealings), which during this period of time run-out and must be replaced.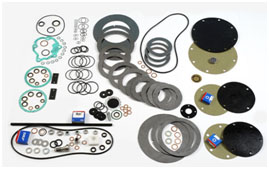 Well-timed valves repair kits replacement can help to avoid emergency stops of the compressor equipment and processing lines on your factory.
We supply spare parts for the following compressor equipment brands:Abac, Airpol, Aerzener, Almig, Alup, Atlas Copco, Atmos, Boge, Bottarini, Busch, Ceccato, CompАir, Demag, Dalgakiran, Ecoair, Ekomak, Fiac, Fini, Gardner Denver, Hydrovane, Ingersoll Rand, Mahle, Mark, Mattei, Worthington etc. Also we propose our servise for replacement the service kit on your compressor.


Our company offers valve service kits for different air scres compressors, quick delivery terms and quick our service department reaction.


Please send you requests to our e-mail address info@sagena.com.ua or contact us +38044 362-60-28.
GARDNER DENVER (GD)
| | | | | | | | |
| --- | --- | --- | --- | --- | --- | --- | --- |
| 223009 | 86663099 | 89560169 | 25BC684 | 80695979 | 89730359 | 60DD693 | VP1008713 |
| 2109296 | 87340549 | 89560169 | 25BC687 | 80705409 | 89730509 | 80M40 | VP1011307 |
| 2218775 | 89507729 | 89573249 | 25BC690 | 85133299 | 89821909 | 90AR923 | 2109389 |
| 20001179 | 89515609 | 89573379 | 25BC696 | 85850159 | 89836319 | O3418288 | 2116715 |
| 30816408 | 89534099 | 89574409 | 60AM46 | 87233129 | 200EBM527 | O3466868 | 8502140 |
| 30834020 | 89541119 | 89599949 | 60AM47 | 87916609 | 3326SST71 | 30860918 | 20001197 |
| 30834028 | 89552979 | 89626099 | 60DD21 | 89545849 | 25BC222 | 37609908 | 30205387 |
| 30834158 | 89554999 | 89739749 | 60DD543 | 89555189 | 25BC242 | 50341810 | 30809118 |
| 30834288 | 89555059 | 89789919 | 60DD561 | 89555209 | 25BC380 | 50341811 | 30818398 |
| 30858838 | 89558369 | 89808639 | 60DD679 | 89555599 | 25BC631 | 80683649 | 30869618 |
| 89594469 | 89559099 | 89823239 | 60D692 | O338538 | O3389270 | 85133039 | 30899578 |
| 89623199 | 89562879 | 300SSP6013 | 89565109 | O3389010 | 85681389 | 85387979 | 80765059 |
ATLAS COPCO


| | | | | | | | |
| --- | --- | --- | --- | --- | --- | --- | --- |
| 1617605804 | 2901063420 | 2902037000 | 6229006300 | 2906094303 | 2901110400 | 1901902278 | 6229005500 |
| 1901901804 | 2901063520 | 2906054000 | 6229025200 | 2906096100 | 2901126000 | 1901902286 | 2901186400 |
| 1901901805 | 2901083400 | 2906054100 | 6259040700 | 2907012200 | 2901128100 | 1901902294 | 2901030200 |
| 1901901817 | 2901110000 | 2906067100 | 6259072300 | 6219066800 | 2901139900 | 1901902302 | FA00009386 |
| 1901901818 | 2901110100 | 2906069300 | 6259087600 | 6229005300 | 2901141100 | 2200900954 | 0830100750 |
| 1901902211 | 2901110200 | 2906069400 | 6259093600 | 6229005400 | 2901146300 | 2235872100 | 0830100816 |
| 0830100817 | 1613890900 | 1621322901 | 1624825180 | 1901702587 | 2235870100 | 2906069300 | 6259093600 |
| 0830100877 | 1613900500 | 1621390800 | 1624825580 | 1901702620 | 2235872100 | 2906069400 | 1624012100 |
| 0830100878 | 1614796100 | 1621505150 | 1624830700 | 1901703131 | 2236110860 | 2906094303 | 1624026380 |
| 0830100943 | 1614900802 | 1621664700 | 1627006980 | 1901705634 | 2250651300 | 2906096100 | 1624026600 |
| 0852001026 | 1614917700 | 1622171383 | 1627122180 | 1901762949 | 2810405104 | 2906600000 | 1624039100 |
| 1088015050 | 1616531300 | 1622175580 | 1627728602 | 1901764744 | 2810505100 | 2906604000 | 1624039500 |
| 1089038424 | 1617152403 | 1622178280 | 1901000225 | 1901901804 | 2901030200 | 2907012200 | 1624067600 |
| 1089050510 | 1617221404 | 1622352580 | 1901002610 | 1901901805 | 2901063420 | 6210718700 | 1624704000 |
| 1089062117 | 1617221502 | 1622368600 | 1901002671 | 1901901817 | 2901063520 | 6219066800 | 1624729780 |
| 1089062119 | 1617261701 | 1622706402 | 1901003115 | 1901901818 | 2901083400 | 6229005300 | 1624824380 |
| 1089062144 | 1617601480 | 1622860900 | 1901003311 | 1901902211 | 2901108401 | 6229005400 | 1617907500 |
| 1089062170 | 1617601583 | 1622861080 | 1901003454 | 1901902278 | 2901110000 | 6229005500 | 1617920281 |
| 1089062171 | 1617605804 | 1622878680 | 1901004673 | 1901902286 | 2901110100 | 6229006300 | 1617920381 |
| 1089064103 | 1617615902 | 1622878681 | 1901046344 | 1901902294 | 2901110200 | 6229025200 | 1617928103 |
| 1089064112 | 1617620780 | 1622878682 | 1901054747 | 1901902302 | 2901110400 | 6259040700 | 1617928104 |
| 1089065202 | 1617621900 | 1622907880 | 1901062667 | 2200599743 | 2901126000 | 6259072300 | 1617936300 |
| 1089070209 | 1617729900 | 1623034600 | 1901062948 | 2200599753 | 2901128100 | 6259087600 | 1621003800 |
| 1089070214 | 1617730000 | 1623037200 | 1901063591 | 2200900954 | 2901139900 | 1901067018 | 1621058500 |
| 1089070282 | 1617902102 | 1623079400 | 1901064369 | 2202705503 | 2901141100 | 1901067019 | 1621317700 |
| 1089072203 | 1617902106 | 1623135400 | 1901064370 | 2202729801 | 2901146300 | 1901071147 | 1613776401 |
| 1202376300 | 1617902501 | 1623136200 | 1901064745 | 2202732401 | 2901186400 | 1901071148 | 1617908300 |
| 1503312800 | 1617902502 | 1623156780 | 1901065804 | 2202732402 | 2902037000 | 1901071149 | 1617909001 |
| 1613572200 | 1617902512 | 1623445702 | 1901065805 | 2202732403 | 2906054000 | 1901071150 | 1617909002 |
| 1613744881 | 1617907200 | 1623445703 | 1901065846 | 2202999204 | 2906054100 | 1901702583 | 1617910800 |
| 1613768782 | 1617907483 | 1623459700 | 1901065847 | 2205462900 | 2906067100 | 2235355204 | 1617910901 |
CompAir


| | | | | | | | |
| --- | --- | --- | --- | --- | --- | --- | --- |
| 100000896 | 100007998 | 100012564 | A05011974 | A10288574 | A10239874 | A29819007 | M05043336 |
| 100001367 | 100008000 | 100012818 | A05018189 | A10299074 | A10243174 | A29909243 | M05078233 |
| 100001423 | 100008001 | 100012819 | A05061274 | A10299474 | A10243274 | A29909273 | M05082136 |
| 100002114 | 100008002 | 100013074 | A05117304 | A10299574 | A11513374 | A29913083 | M05087093 |
| 100002435 | 100008003 | 100014900 | A05120639 | A10339174 | A11542174 | A29913183 | M05088497 |
| 100002543 | 100008004 | 100014969 | A05121827 | A10352174 | A11984174 | A36101033 | M05092119 |
| 100002569 | 100008005 | 100015591 | A05121835 | A10352274 | A11984374 | A40002074 | M05093786 |
| 100002655 | 100008006 | 100015593 | A05161278 | A10361274 | A12179174 | A40024774 | M05094677 |
| 100002830 | 100008333 | 100015915 | A05161526 | A10408074 | A13050374 | A44950174 | M05121660 |
| 100002947 | 100008408 | 1284J01750 | A05161542 | A10408774 | A13088374 | A44952374 | M05163480 |
| 100002983 | 100008535 | 1284J01780 | A05161559 | A10411474 | A13095674 | A44958874 | M05163696 |
| 100003280 | 100008536 | 98603-16 | A05161567 | A10418074 | A13149874 | A44977074 | M05193586 |
| 100003539 | 100008868 | 98650-236 | A05165238 | A10474074 | A13152374 | A44977174 | M05196274 |
| 100003882 | 100008869 | 98650-359 | A05273289 | A10493974 | A13210374 | A44977374 | M05250840 |
| 100003984 | 100008870 | 98650-363 | A05322664 | A10520874 | A13210574 | A44977974 | M05250857 |
| 100003985 | 100009004 | 98650-390 | A05725221 | A10524974 | A13231274 | A44978074 | W305015 |
| 100003986 | 100009170 | 98650-392 | A05738729 | A10526074 | A13340674 | A51065474 | ZS1046882 |
| 100004397 | 100009203 | 98652-21 | A05744374 | A10530474 | A21351827 | A51067274 | ZS1058264 |
| 100004670 | 100009529 | 98652-22 | A05757574 | A10615874 | A29619007 | A93282250 | 100007083 |
| 100004699 | 100009530 | 98652-37 | A05795074 | A10619574 | A29700157 | A93595020 | 100007248 |
| 100005325 | 100009603 | 98652-42 | A05795174 | A10619774 | A29719007 | A93595320 | 100007442 |
| 100005383 | 100009676 | 98652-54 | A05795874 | A10645474 | C20600-480 | A93603650 | 100007924 |
| 100005481 | 100009935 | 98652-56 | A05795974 | A10659674 | C21260-20 | A93603670 | 100007962 |
| 100005482 | 100009937 | 98652-62 | A05797074 | A10659874 | C21261-31 | C10663 | 100011769 |
| 100005604 | 100010373 | 98652-63 | A05797174 | A10684974 | C21325-230 | C15448-952 | 100011770 |
| 100005615 | 100010434 | 98652-69 | A05797274 | A10822474 | C21330-65 | C20600-369 | 100012304 |
| 100005616 | 100010588 | A00448374 | A05797374 | A10822774 | C21600-156 | C20600-376 | 100012308 |
| 100005623 | 100010721 | A00519574 | A05921174 | A10827774 | C27399-331 | C20600-390 | 100012563 |
| 100005661 | 100010753 | A00840674 | A05943874 | A11009374 | C27399-343 | C20600-440 | A03999177 |
| 100005664 | 100010821 | A00844774 | A05943974 | A11029374 | CT005007 | M05036991 | A03999277 |
| 100005704 | 100010827 | A00879674 | A05951574 | A11176974 | CT030012 | M05037114 | A03999477 |
| 100005705 | 100010862 | A01249648 | A06233277 | A11216574 | CT035033 | M05037759 | A03999777 |
| 100005706 | 100010972 | A01249655 | A06233377 | A11241174 | CT061035 | M05037767 | A04494574 |
| 100005707 | 100011292 | A01335629 | A06233477 | A11241274 | CT061118 | M05037957 | A07715741 |
| 100005746 | 100011293 | A02572574 | A06233577 | A11246874 | M05016365 | M05038062 | A07756974 |
| 100005750 | 100011294 | A02577474 | A06233677 | A11342374 | M05017306 | M05038138 | A07779774 |
| 100005751 | 100011295 | A02983374 | A06233877 | A11401074 | M05017405 | M05038146 | A07807674 |
| 100005929 | 100011333 | A03092177 | A06233977 | A11423374 | M05017843 | M05040993 | A10192574 |
| 100006129 | 100011406 | A03600477 | A06234077 | A11423474 | M05017850 | A11424674 | A11424274 |
| 100006279 | 100011542 | A03731177 | A06345777 | A11423674 | M05019997 | A11447974 | A11424474 |
| 100006913 | 100011584 | A03998977 | A07700719 | A11423974 | M05020037 | A11481474 | |