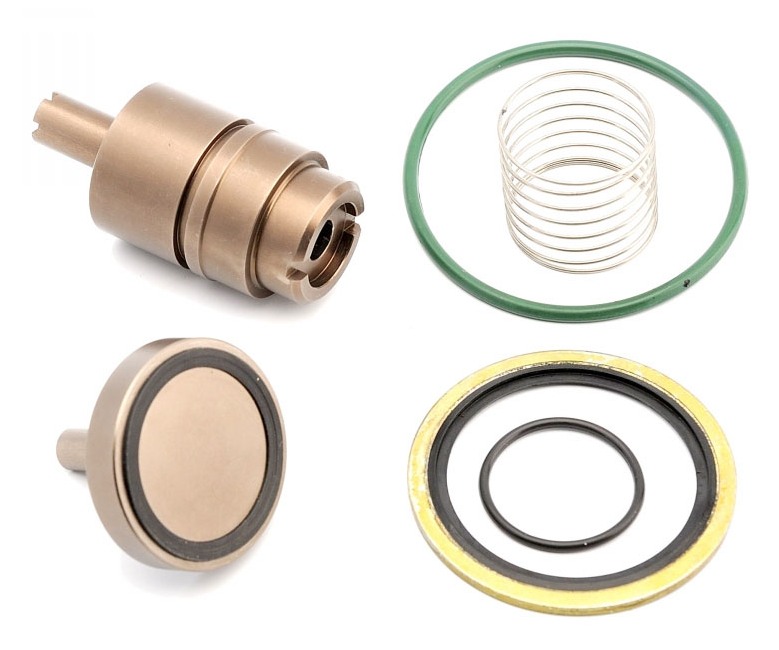 Air screw compressor valves are the elements which are very important for the compressor in general. They control the air flow: intake and outlet. Also they control that compressed air to out the system.

Well-timed compressor maintenance can prolong lifetime of the equipment, and also can save money for the repairs. That is why we recommend to carry about your compressors, and in case of necessity we can offer you necessary spare parts for the maintenance.
Minimum pressure valve is designed to support the minimum pressure of the oil (which is necessary for the cooling and lubricantion during start up), load reset or opening the user's ports. The minimum pressure valve is installed after air-oil separator or on the downstream line after air-oil separator.
Air screw compressor intake valve is necessary for the mode control by the converting compressor from no-load mode to load mode and back, regulate control, as well as prevent the oil leaks and compressed air release when equipment stop.
Thermostatic valve (thermostat) is designed to control the oil flow in the screw compressor with oil injection. One of the possible adjustments is adjustment of the oil temperature and optimal operational temperature for effective use the oil to avoid condensate. Thermostatic valve is installed between oil separator and oil filter.
Our company offer different spare parts (valves, rely, hoses, belts etc.) for all air screw compressors brands, we offer quick delivery terms and fast reaction to your request. Please send your requests to our e-mail address info@sagena.com.ua or contact us +38 044 362-60-28.
| | | | | | | | | | | |
| --- | --- | --- | --- | --- | --- | --- | --- | --- | --- | --- |
| Atlas Copco | 2901-0068-00 | | CompAir | A11203274 | | | 400977.0001O | | VMC | 270.179O |
| Atlas Copco | 1622-7064-01 | | CompAir | A11511974 | | | 400980.0003O | | VMC | 270.138O |
| Atlas Copco | 2901-0069-00 | | CompAir | A11175274 | | | 400994.0001O | | VMC | 270.1387 |
| Atlas Copco | 2901-0074-00 | | CompAir | A11375374 | | | 400994.0002O | | VMC | 270.1382 |
| Atlas Copco | 6259-0922-00 | | CompAir | CK8055/1 | | | 400994.0002O | | VMC | 700.0022 |
| Atlas Copco | 2901-0075-00 | | CompAir | A11513574 | | | 400994.0003O | | VMC | OO750 |
| Atlas Copco | 1619-7560-00 | | CompAir | 98603/15 | | | 400994.0004O | | VMC | 700.2025 |
| Atlas Copco | 1622-3759-80 | | Hydrovane | 1649 3515C | | | 400994.0005O | | VMC | 700.301O |
| Atlas Copco | 1619-7333-00 | | Sullair | 45548P160 | | | 400995.0002O | | VMC | 700.3011 |
| Atlas Copco | 2901-0447-00 | | Sullair | 250028-036 | | | 400995.0003O | | VMC | 700.2026 |
| Atlas Copco | 2901-1617-00 | | Sullair | 250028-774 | | | 400995.0004O | | VMC | 700.0021 |
| Atlas Copco | 2901-0414-00 | | Sullair | OO61168 | | | 401805.0002O | | VMC | 700.3012 |
| Atlas Copco | 1622-7064-04 | | Sullair | O2250105-553 | | | 401811.0001O | | VMC | 700.2027 |
| Atlas Copco | 2901-0303-00 | | Sullair | OO1168 | | | 401811.0002O | | VMC | 700.202O |
| Atlas Copco | 2901-1464-00 | | Sullair | 49542 | | | 401811.O | | VMC | 270.1748 |
| Atlas Copco | 1622-3759-81 | | Sullair | O2250046-572 | | | 401823.O | | VMC | 270.1385 |
| Atlas Copco | 2901-1454-00 | | Sullair | 250001-349 | | | 402151.O | | VMC | 270.4838 |
| Atlas Copco | 2901-1455-00 | | Sullair | 250016-929 | | | 402152.O | | VMC | 270.3846 |
| Atlas Copco | 1622-3759-82 | | Sullair | 250028-407 | | | 402198.O | | VMC | 270.4848 |
| Atlas Copco | 2901-0838-00 | | Sullair | 250016-720 | | | 402404.0003O | | VMC | 270.029O |
| Atlas Copco | 1622-7064-03 | | Sullair | 250016-721 | | | 7.1975.O | | VMC | 270.111O |
| Atlas Copco | 1622-3759-01 | | Sullair | O45764 | | | 7.1976.O | | VMC | 270.1115 |
| Atlas Copco | 1622-7074-03 | | Sullair | O2250120-957 | | | 7.2013.O | | VMC | 270.112O |
| Atlas Copco | 1619-7493-00 | | Sullair | O2250144-326 | | | 7.2014.O | | VMC | 270.113O |
| Atlas Copco | 2901-1616-00 | | Sullair | 250020-153 | | | 7.2019.O | | VMC | 270.1135 |
| Atlas Copco | 2202-7421-00 | | Sullair | O2250078-204 K | | | 7.2425.O | | VMC | 270.115O |
| Atlas Copco | 2200-6006-61 | | Sullair | R34067 OO1084 | | | 7.2473.O | | VMC | 270.116O |
| Atlas Copco | 1622-7064-04 | | Sullair | O2250104-907 | | | 7.6654.O | | VMC | 270.117O |
| Atlas Copco | 1619-5422-00 | | | 401812.0005 | | | 7.6655.O | | VMC | 270.125O |
| Atlas Copco | 2200-9023-03 | | | 401824.1 | | | 7.8000.O | | VMC | 270.126O |
| Atlas Copco | 1621-8556-00 | | | 402151.1 | | | 7.8001.O | | VMC | 270.127O |
| Atlas Copco | 6259-0723-00 | | | 402152.1 | | Ingersoll Rand | 9270331 | | VMC | 270.1271 |
| Atlas Copco | 1622-7064-05 | | | 402152.O | | Ingersoll Rand | 45548P160 | | VMC | 270.1301 |
| Atlas Copco | 2906-9077-00 | | | 400705.0001O | | Ingersoll Rand | 92535400 | | VMC | 270.1302 |
| Atlas Copco | 2901-1095-00 | | | 7087 400705.O | | Ingersoll Rand | 39437645 | | VMC | 270.1311 |
| Atlas Copco | 1622-7070-02 | | | 7093 400811.O | | Ingersoll Rand | 92660414 | | VMC | 270.1312 |
| Atlas Copco | 1619-7596-00 | | | 400812.0002O | | Ingersoll Rand | 39443833 | | VMC | 270.132O |
| Atlas Copco | 1202-5869-01 | | | 400847.0003O | | Ingersoll Rand | 39441944 | | VMC | 270.1321 |
| Atlas Copco | 6259-0935-00 | | | 400848.0002 | | Ingersoll Rand | 39207402 | | VMC | 270.1322 |
| Atlas Copco | 1619-7493-00 | | | 400848.0003 | | Ingersoll Rand | 39488705 | | VMC | 270.135O |
| Atlas Copco | 2901-0414-00 | | | 400848.O | | Ingersoll Rand | 23137920 | | VMC | 270.1352 |
| Atlas Copco | 1615-9720-00 | | | 400877.O | | Ingersoll Rand | 39902374 | | VMC | 270.136O |
| Atlas Copco | 1616-4497-00 | | | 400880.O | | Ingersoll Rand | 22195820 | | VMC | 270.1362 |
| Atlas Copco | 1617-2232-02 | | | 400888.0001O | | Ingersoll Rand | 39437652 | | VMC | 270.137O |
| Atlas Copco | 1617-2231-01 | | | 400888.0002O | | Ingersoll Rand | 22125223 | | VMC | 270.1371 |
| Atlas Copco | 12227 2205-4628-01 | | | 400888.0003O | | Ingersoll Rand | 92535400 | | VMC | 270.216 K |
| Atlas Copco | 1202-5869-04 | | | 37054 400888.O | | Ingersoll Rand | 39902382 | | VMC | 270.245O |
| Atlas Copco | 2205-4905-91 | | | 400889.0002O | | Ingersoll Rand | 39437645 | | VMC | 270.246O |
| Atlas Copco | 2901-1618-00 | | | 400889.0003O | | Ingersoll Rand | 88245311 | | VMC | 270.3112 |
| Atlas Copco | 2901-3503-00 | | | 400889.O | | Ingersoll Rand | 37952389 | | VMC | 270.3251 |
| Atlas Copco | 2906-9043-00 | | | 400908.0006O | | Ingersoll Rand | 92355400 | | VMC | 270.3301 |
| Atlas Copco | 6219-0289-00 | | | 400931.O | | Ingersoll Rand | 22186720 | | VMC | 270.3302 |
| Atlas Copco | 6219-0396-00 | | | 400952.0002O | | Ingersoll Rand | 39478193 | | VMC | 270.331O |
| Atlas Copco | 6236-3813-00 | | | 400952.0002O | | Ingersoll Rand | 282024 KI | | VMC | 270.3311 |
| Atlas Copco | 2902-0008-00 | | | 400953.1002O | | | | | VMC | 270.3312 |
| | | | | 400970.0003O | | | | | VMC | 270.332O |
| VMC | 270.3321 | | Adicomp | 3506.002 | | Worthington | 6219-0685-00 | | BOTTARINI | 221564 |
| VMC | 270.3322 | | Adicomp | 3506.0013 | | Worthington | 1202-5869-01 | | BOTTARINI | 221502 |
| VMC | 270.335O | | Adicomp | 8830.0001 | | Worthington | 6259-0922-00 | | BOTTARINI | 221556 |
| VMC | 270.3352 | | Adicomp | 8830.0007 | | Worthington | 6266-3701-00 | | BOTTARINI | 224057 |
| VMC | 270.336O | | Adicomp | 8830.0009 | | Worthington | 6246-3627-00 | | BOTTARINI | 222980 |
| VMC | 270.3362 | | Adicomp | 3504.0009 | | Worthington | 6259-0933-00 | | BOTTARINI | 224043 |
| VMC | 270.337O | | Adicomp | 3504.001O | | Worthington | 6259-0890-00 | | BOTTARINI | 221666 |
| VMC | 270.3371 | | Adicomp | 8830.0004 | | Worthington | 6236-3405-00 | | BOTTARINI | 224042 |
| ABAC | 9056841 | | Adicomp | 3504.0001 | | Worthington | 6259-0932-00 | | BOTTARINI | 224170 |
| ABAC | 9056872 | | Adicomp | 3504.0012 | | Worthington | 6219-0494-00 | | BOTTARINI | 221667 |
| ABAC | 9056817 | | Adicomp | 3504.0003 | | Worthington | 6219-0495-00 | | BOTTARINI | 221613 |
| ABAC | 9056075 | | Adicomp | 3504.0008 | | Worthington | 6246-3961-00 | | BOTTARINI | 224169 |
| ABAC | 9056840 | | Adicomp | 3504.0002 | | Worthington | 2200-5998-25 | | BOTTARINI | 224048 |
| ABAC | 9056184 | | Adicomp | 8830.0002 | | Worthington | 6256-3010-00 | | BOTTARINI | 224050 |
| ABAC | 9056131 | | Adicomp | 3504.0011 | | Worthington | 1619-7333-00 | | BOGE | 2420302671P |
| ABAC | 9056987 | | Adicomp | 3504.0005 | | Worthington | 6259-0723-00 | | BOGE | 2420316671P |
| ABAC | 9057505 | | Adicomp | 3504.0007 | | Worthington | 6219-0675-00 | | BOGE | 2420327067P |
| ABAC | 9056895 | | Adicomp | 3504.0006 | | Worthington | 2901-0447-00 | | BOGE | 2420164671P |
| ABAC | 9056328 | | Adicomp | 3506.0016 | | Worthington | 1622-7070-02 | | BOGE | 2420177671P |
| ABAC | 9056849 | | Adicomp | 3506.0021 | | ALUP | 212.00219 | | BOGE | 2420289671P |
| ABAC | 9056330 | | CECCATO | 2200599820 | | ALUP | 210.00223 | | BOGE | 2420051671P |
| ABAC | 9056976 | | CECCATO | 2200599825 | | ALUP | 212.00214 | | BOGE | 2420302166P |
| ABAC | 9057540 | | CECCATO | 2200599824 | | FINI | 213500015 | | BOGE | 242035367P |
| ABAC | 9056890 | | ABAC | 9056901 | | FINI | 347124000 | | BOGE | 2420425667P |
| ABAC | 9056988 | | ABAC | 9056891 | | FINI | 347073000 | | BOGE | 2420131671P |
| ABAC | 9056829 | | ABAC | 9056989 | | CHINOOK | 12506540 | | Quincy | 124973-002 |
| ABAC | 9056852 | | ABAC | 9056832 | | CHINOOK | 12506550 | | GD | 8956016 |
| ABAC | 9056853 | | ABAC | 9057507 | | CHINOOK | 12506540 | | GD | 8962609 |
| ABAC | 9056986 | | ABAC | 9056919 | | CHINOOK | 12506550 | | GD | 2109295 |
| CHINOOK | 12506690 | | CHINOOK | 14402010 | | CHINOOK | 14401060 | | GD | 2109365 |
| CHINOOK | 13700890 | | CHINOOK | 13700880 | | CHINOOK | 12504160 | | GD | 2109366 |
| CHINOOK | 14401180 | | CHINOOK | 14400810 | | | | | | |