Proper choice of the spare parts has great importance in the operation of the compressor equipment.
Our company offer high-quality spare parts for the maintenance and repairs of the compressor equipment well-known brands as Abac, Airpol, Almig, Alup, Atlas Copco, Atmos, Becker, Boge, Bottarini, Busch, Ceccato, Chinook, Compair, Demag, Dalgakiran, Deltech, Domnick Hunter, Donaldson, Ecoair, Fiac, Fini, Gardner Denver, Hankison, Hiross, Hydrovane, Ingersoll Rand, Kaeser, Mahle, Mark, Mattei, MTA, Omi, Pneumofore, Rietschle, Rotorcomp, Ultrafilter, Worthington, WAN, Zander, Remeza etc.:
1. Air filters.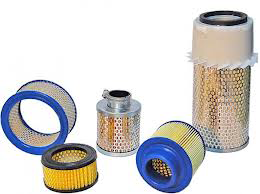 2. Oil and fuel filters.
3. Separators.
4. In-line filters, filter elements.
5. Pocket filters.
6. Valves, rely, thermostats.
7. Belts and hoses.
8. Bearings, sealings.
9. Compressor oil and lubricators.
10. Valves service kits.
11. Air end shaft seal kits.
We offer spare parts as from our stock in Kyiv and under the order. We provide quick deliveries of the spares (unloading, return, minimum pressure valve service kits, air end shaft seal, etc.)
Please send your inquiry for the spare parts (filters) to our e-mail address: info@sagena.com.ua or contact us +38044 362-60-28. We can help you to select proper spares for your equipment.